Rules For Owning Personalised Number Plates!
Do you want to have personalised registration number plates? And, looking to use a number plate on your vehicle to accomplish various purposes? Fo that, what you need to do is you have to follow some crucial rules to own private registration number. 
Here, we will tell you what you need to keep in mind during the procedure of creating own number plate. You can add a family name, a nickname, or a memorable date on your personalised number plates that can grace the UK's roads.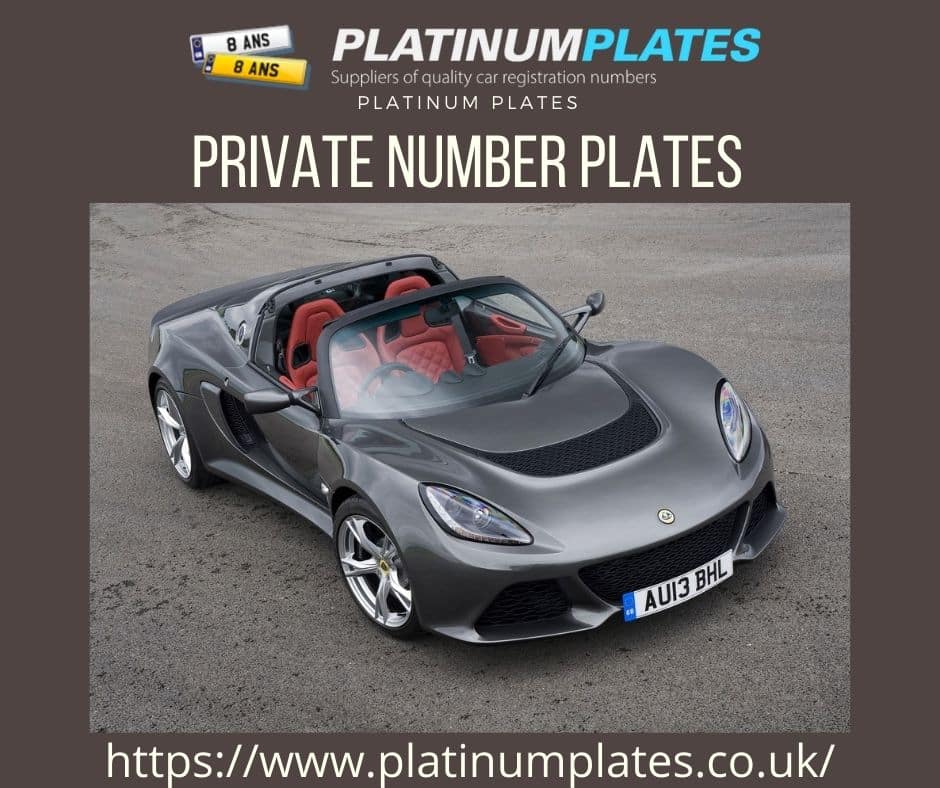 Rules For Displaying Private Number Plates On Vehicle
We all know that rules are made to maintain the discipline of a country. So, it is necessary to follow all the rules imposed by the government. There are some laws and regulations that you need to consider while obtaining number plates. Let's discuss them here:
Standardized Font Is Restricted
You can't use letters and numbers in a standardized font – italics as they are not allowed to apply by DVLA.
Bolt Fixtures Are Not Allowed
You are not allowed to use bolt fixtures in order to change the look of the number and letters of your private registration plate.
Can't Apply New Number Plate To Old Car
If you are thinking to make your old car look young by employing private number plate then it is absolutely restricted as it is illegal to use a new private number plates on your vintage car to alter the appearance of your car.
Ensure About The Restricted Size
You need to be sure about each character covers 79mm in height and 50mm in width. The only exemption is the number '1' or letter 'I'.
Only Black Print Is Required
You can only print letters and numbers in black color and keep in mind the stroke of each character should be 14mm.
Limited Spacing Is Considered
You can keep 11mm space between each character and similar margins need to keep around each of the characters.
Certain Letters Are Restricted To Use
Neither you use the letter 'Q' in starting of registration plate nor put a private number plates on a 'Q' registered car. So, don't use this letter as it is reserved for kit cars or custom vehicles. 
Basic Sorts Of Private Registration Number 
Four basic styles of private plates can be used on your vehicle in UK. Read here!
Prefix Style Plates
The prefix number plate was employed between 1983 -2001 in the UK. The first letter shows the car's age such as A123 ABC that's why it is identified as a prefix.
Suffix Style Plates
The suffix number plate was distributed between 1963 -1983 in the UK. Suffix plates commence with the letter 'A' and finishes with a letter that shows its age, for example – ABC 123A
Current Style Plates
Current style number plates have been utilized since 2001 that contain seven characters. They are usually applied to a new vehicle. They are designed with two letters showcasing the region it was registered, chaperoned by two numbers showcasing the car's age, and ending with three random letters such as – AB18 ABC.
Dateless Style Plates
These style number plates can be any combination of up to four numbers and three letters such as 1 AB that were applied before 1963 to vintage vehicles. These plates are highly demanded as they do not show the age of your old car.
So, you can face a fine of up to £1,000 after catching by cops, if you don't follow these rules. Be careful while purchasing a number plate.